Our vision is to be the catalyst in innovative regulation that promotes confidence and economic growth. We recognize the role innovation has as a powerful driver of competition, consumer choice, and the critical role it will play in Ontario's long-term growth.
The Innovation Office Charter
In 2019, the Ontario Government introduced a five-point plan specific to the oversight of its regulated capital markets. The plan outlined in the Charter supports the Government's overarching mandate of lowering business costs, promoting Ontario internationally, helping employers attract skilled workers, as well as creating further confidence in the capital markets and financial services.
The Innovation Office Charter defines the Office's role and operations and outlines our strategic objectives and initiatives to support our mandate.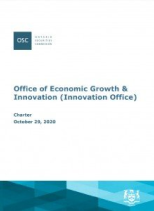 What we do
On a mission
We're different. The Office of Economic Growth and Innovation (Innovation Office) is a new branch at the Ontario Securities Commission (OSC) dedicated to accelerating innovation, bolstering capital formation, and reducing regulatory burden in Ontario's capital markets. We help innovative businesses understand securities laws and strive to make the OSC a more innovative and efficient regulator.
Fostering innovation
We offer unique support for innovative businesses. The Innovation Office provides innovative businesses with flexible approaches to meeting regulatory requirements. We offer time-limited registrations, exemptive relief, informal guidance on securities laws, and other tailored support through our LaunchPad program. We also help businesses that are ready to launch an innovative solution to safely test in Ontario and beyond.
LaunchPad support
Supporting economic growth
We're a resource for Ontario's financial innovation ecosystem. The Innovation Office provides educational resources to make it easier for innovation ecosystem participants to understand securities laws, raise or invest capital, and serve innovative businesses. We're also collaborating with incubators, funders, and others across the ecosystem, as well as with other regulators domestically and internationally.
Who we work with
Modernizing regulation
We help make securities regulation more innovative, efficient, and better suited to what's next. The Innovation Office mandate is to help drive continuous improvement across the OSC and innovate regulation for Ontario's capital markets. We research, propose, test, and implement methods to reduce regulatory barriers, fees, anti-competitive behavior, and response times.
Modernizing regulation
Working for you and with you
We want to hear from you. The Innovation Office is your dedicated team at the OSC focused on economic growth and innovation in Ontario's capital markets.